See on Scoop.it – Electronic dictionary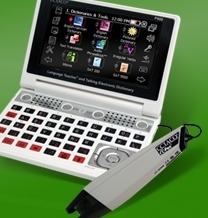 Slowniki elektroniczne ECTACO….
To nowoczesne, kieszonkowe urządzenie łączące funkcje Language Teacher'a, tłumacza tekstów, mówiącego słownika oraz rozmówek audio. Doskonale nadaje sie do samodzielnej nauki jezyka angielskiego. To idealny elektroniczny nauczyciel dla zapracowanych! . Zasób słów 1 200 000. Tłumaczenie ciągłych tekstów. Transkrypcja fonetyczna. Idiomy. Kurs angielskiego. Podręcznik gramatyki angielskiej. Słownik języka angielskiego. Słowniki SAT 200 i SAT 5000. Słownik obrazkowy. Rozmówki. Language Teacher. eBook Reader. ECTACO/C-Pen 20 ręczny skaner. Odtwarzacz mulitmediów.
See on pl.ectacoinc.cz