See on Scoop.it – Electronic dictionary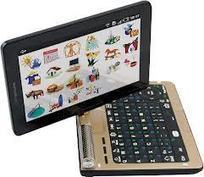 The English Polish Ectaco Partner LUX is the most advanced unit ever created while maintaining a user friendly interface, touchscreen, and a full QWERTY convertible keyboard.
Ty mówiłeś, a my słuchaliśmy. Wychodzenie naprzeciw potrzebom i oczekiwaniom konsumentów jest dewizą firmy ECTACO. Dlatego też stworzenie niezależnego urządzenia z opcją swobodnego tłumaczenia, jakim jest ECTACO Partner LUX, było zwieńczeniem wielu lat pracy oraz nieustannych badań prowadzonych pod kątem wdrażania innowacyjnych technologii. Dzięki ECTACO Partner LUX wystarczy, że wypowiesz zdanie w języku angielskim, a urządzenie automatycznie przetłumaczy je na język polski (lub odwrotnie). ECTACO Partner LUX można wykorzystać w wielu sytuacjach, począwszy od spotkań zarządu a kończąc na spotkaniu z wymarzoną dziewczyną, ponieważ nie tylko łamie bariery językowe, ale po prostu niszczy je!
See on www.luxectaco.com